There has been some talk about rebranding Peercoin's slogan…
http://www.reddit.com/r/peercoin/comments/29bhee/peercoin_slogan/
There seems to be a mistake assumption that "Secure. Sustainable. Peercoin is Here" is our slogan when it is not. This is featured on peercoin.net though, so that's probably where the mistaken assumption came from. Our current slogan, which has been in use since last year is "The Secure & Sustainable Cryptocoin."
The poster of that Reddit thread also offered up this…

I don't like it, but I understand his point, which is to point people to the fact that the Peercoin network can be sustained on low-grade, energy efficient hardware, making it resistant to centralization. The message he's trying to communicate is already in our current slogan. It's just not blatant. It requires some knowledge of how Peercoin works to fully understand. I posted this and was responded to with this: "Shouldn't the slogan be geared toward people with minimal to no understanding of how peercoin works?"
I thought about this and concluded that the vagueness of the current slogan might be a problem. I came up with an altered version, but before I show it to you, I want you to understand why the current slogan was chosen. At the time, the current slogan was backwards: "Sustainable & Secure" and we were debating whether to replace it with "The Gold Standard of Cryptocurrency." We ended up just switching the words around and keeping the slogan we were already using, but the deciding factor of the community was a post made by iheartcryptocoin, which explains why the two words "Security & Sustainability" are so important. Everybody agreed with his post. Please read it here…
[quote="iheartcryptocoin, post:17, topic:1044"]Hey Folks
I vote for the current slogan with swapped words. I played with both secure and sustainable, vs sustainable and secure during the initial drafting, and I personally preferred the former but I think I remember a couple of others preferring the latter so that is why it is as it is now. My vote is for "secure and sustainable"
"Secure" and "sustainable" capture the entire universe of what PPC does/stands for. These two simple words together open the door to the larger discussions we are referring to without ALSO invoking the emotional baggage that terms like "gold standard" carry for many people (baggage being positive or negative.)
Secure - can refer to both 'military security' (eg resistance to >50% attack), also refers to the 'trustworthiness' of the tech, and the community (secure = trust) etc etc
Sustainable - refers to the green nature (sustainable resource use) and can also refer to the need for a reserve currency to stand the test of time. Anything that is sustainable lasts etc etc
I could say more, however I'm sure we can all see other ways to tie these two words to our core values. These two concepts together can be used by anyone to capture/explaining the essence of PPC .
Finally, lets not invite arguments that don't further our ultimate cause. We gain nothing from inviting arguments over Keynes or the austrain school, all of that really would distract from getting folks to just try out and use the coin. This is what phrases like "gold standard" invoke. The troll box is real, the troll mentality is real, and we need to stay focused and avoid distracting arguments.
So lets keep it simple, lets use these broad enough words that capture everything we might mean, and lets band together to tell the world about PPC![/quote]
I tried to think up something new which conveyed what the Reddit poster was talking about. As shown above in his example image, his slogan was "The Most Decentralized Currency in the World." I tried to convey the same thing in as few words as possible. This is what I came up with…
"True Decentralization"
This simple slogan implies that something is not quite right about the decentralization of other cryptocurrencies and that Peercoin has solved the issue and is currently the only cryptocoin that is truly decentralized. The only problem is that we lose the important ideas that iheartcryptocoin mentioned that were present in the old slogan. So I came up with this revised version…
"Secure, Sustainable, True Decentralization"
I like this version better because it includes the 2 original ideas of security and sustainability, while also taking some of the vagueness out by introducing the 3rd point. When saying it aloud, there is a pause after each comma. Here is an image I made that shows it off…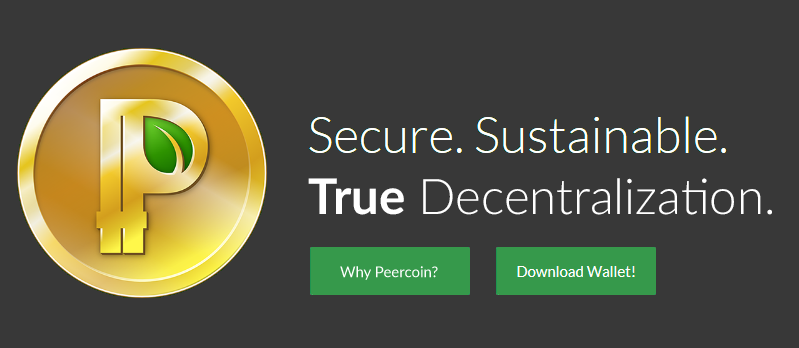 What do you all think?
EDIT: Because of Cybnate's suggestion, I decided to alter the slogan to the following, which sounds better and is shorter to write out…
"Secure, Sustainable, Truly Decentralized"