Hey everyone, in our previous thread, we hit a roadblock while trying to design the new theme for Peerunity. We got something that looked pretty good, but the problem was people thought it was too dark of a design to implement. I took this comment to heart…
[quote="learnmore, post:55, topic:2500"]While I personally gravitate toward dark themes when given a choice, I really don't like applications that force it upon me. Most major operating systems rely upon standard white/light backgrounds for native GUIs and when applications veer from this they can appear a bit unrefined, adventurous, or even subversive.
I think about my banking/financial websites and they all adhere to white/light themes. I believe I would even be a little suspicious of a "dark" banking website theme. It conveys secrecy and risk. Peercoin is aiming to be a secure, long-term store of value - people may one day be counting their life savings in PPC - and I think the primary interface (the wallet) needs to appear trustworthy, if even bit conventional, in order to encourage wide adoption.[/quote]
Everything he said there makes sense. I've been guilty of relying too much on darker visuals without thinking about the effect it has on people's perception of Peercoin. Even Cybnate has been trying to tell me this. I think dark gray is still an important part of Peercoin's color pallete, but it needs to be limited. In the previous version, the main problem was that even the main background was too dark. Here is the old version…
[size=18pt]OLD VERSION[/size]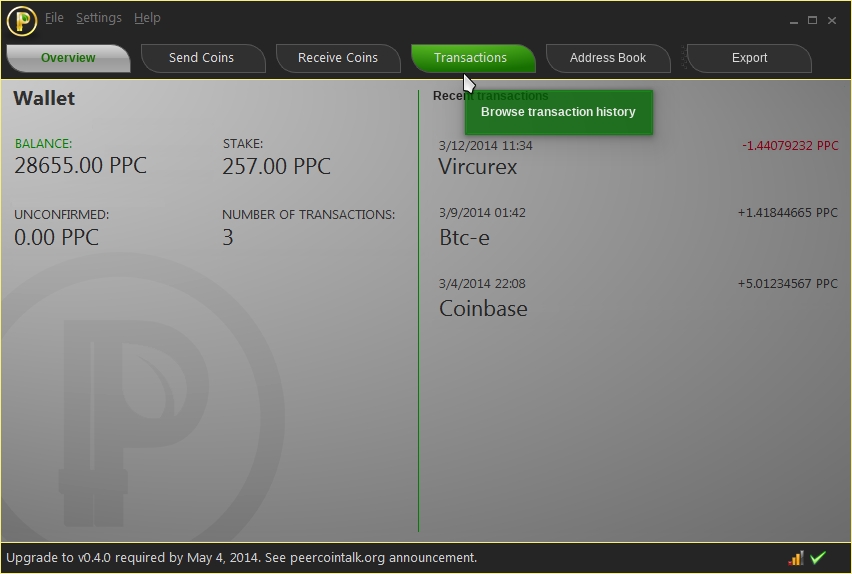 Last night I decided to try and fix the darkness issue. I literally spent all night recreating this design from scratch in MS Paint. I got done work, I started designing this, like 10 hours passed and it was morning already. Now I'm back at work without having gotten the chance to sleep! :omg:
Feeling kinda tired, but it hasn't hit me hard yet.
The major changes in this version: The main background has been brightened up, the dark gray header is a tad thinner, there is more green text, the Peerunity icon in the top left corner has been reduced in size, (File, Settings, Help and the right window control buttons are now brighter) and the main navigation buttons are now rectangle, with space given for the "Mint" button.
[size=18pt]NEW VERSION[/size]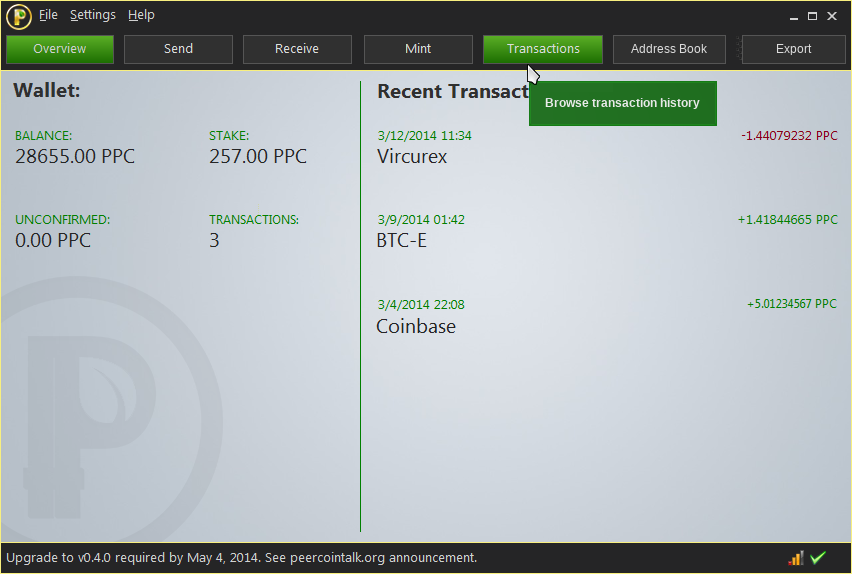 NOTE:
- Tool Tip Transparency & Shadowing: Due to the limitations of Paint, I couldn't make the green tool tip window transparent like in the previous version. It's supposed to be transparent in the final version, making it possible to read the heading "Recent Transactions" behind the window. It also doesn't include the small shadow around the tool tip window. The final version should include both of these.
- Green Button Activation: The "overview" button is green because it is the one that is currently selected. The "Transactions" button is green because the mouse is currently hovering over it, allowing the tool tip window to expand as well. If the mouse is moved over another button, the transactions button will turn dark gray again and the new button will turn green. You can see an example of this in the navigation header of Peershares.net.
- Send & Receive Symbols: I didn't include the send and receive symbols in the recent transactions section, but they should be included in the final version.
- Peerunity Watermark Size Increase: The only other thing I feel that needs to be improved is that the Peerunity watermark needs to be made a tad larger like in the previous version.
I personally feel this version is much nicer and should hopefully solve the darkness issues many of you were having with the previous design. If you all want to move forward with this, I would suggest contacting the designer of the Mastercoin wallet. I got a lot of inspiration from that wallet and lifted many things, including the same shade of dark gray, the same font (Segoe UI) and the merging of the top header bar with the main navigation. We'd just need to find the designer of that wallet and offer him a job. What do you guys think?