[center] [size=12pt]  [img width=300 height=240]http://i.imgur.com/M7m4cLt.png[/img]    [center] [font=arial black][b]Peercoin Newsletter - Issue #9


Official Forums & Chat
Facebook
Twitter
Reddit
[/b][/font][/center][/center]
[font=trebuchet ms][size=17pt]Table of Contents:[/size]
[size=12pt]1. Core Development:[/size]
Sigmike Joins Sunny King on the Peercoin Core Development Team
Peercoin v0.5: Checkpoint Opt Out, Cold-Locked Minting, Improved Rewards
[size=12pt]2. Community Development:[/size]
Peerunity v0.1 Released
Peerunity v0.2 in Development
New Peercoin Video Released
Introducing the Peercoin Marketing Fund
38 Minute Intro to Peercoin Video & Slide Deck Created
Peer4Commit Gets a Facelift & New Features
Peercoin.net is Being Redesigned
[size=12pt]3. The "Cryptoasset Game Changer" Introducing NuBits:[/size]
[size=12pt]4. Conclusion:[/size]
[font=trebuchet ms][size=17pt]1. Core Development:[/size]
[size=14pt]- Sigmike Joins Sunny King on the Peercoin Core Development Team[/size]
On 6/16/14, Sunny King officially announced that Sigmike is now sharing responsibility in the Peercoin core development team.
[i]Based on the consensus of project leaders of the community, I am happy to announce that sigmike is now sharing responsibility with me in the Peercoin core-dev team. Responsibility of core-dev team is maintenance and development of peercoin protocol and reference client implementation. sigmike has been a key member of the peershare project and peerunity project, who has also demonstrated exceptional knowledge of peercoin protocol and security.[/i]
Sigmike has proven to be an invaluable asset to the Peercoin community with such works as Peershares, Peerunity, Peer4commit, and NuBits (which we'll get to in a moment). Congratulations Sigmike!
[size=14pt]- Peercoin v0.5: Checkpoint Opt Out, Cold-Locked Minting, Improved Rewards[/size]
On 6/24/14, Sunny King confirmed that Peercoin v0.5 is under development. He mentions enabling users to opt out of checkpoint enforcement.
[i]Peercoin v0.5 is under development, currently work is being done on the checkpoint system. First step, user would be able to opt out enforcement of broadcast checkpoints.[/i]
In the 5/24/14 community interview with Sunny King, he mentioned improved network security and minting incentive as two things currently in development.
[i]Sunny King: For the protocol there is two items currently active, one is cold minting, the other is improving minting incentive

Ben: "Improving minting incentive" – this will be an item that will get a lot of talk after this interview, I'm sure. Can you tell us about it?

Sunny King: If we get these solved I think then we could reach very high network security levels

Sunny King: Currently the minting participate rate is still relatively low I think

Sunny King: It's getting a lot better than say a year ago, but I think we could do much better even

Sunny King: I have a proposal that maybe switch to a constant mint per block would significantly improve participation without too much impact to inflation model. However this is something the commnity needs to reach a level of consensus on[/i]
On 5/8/14, Sigmike proposed a cold storage minting option. Cold storage, or cold-locked minting, would enable users to earn interest on their Peercoins via proof of stake and secure the network while their coins are held safely in cold storage.
On 6/30/14, Sunny King made a comment which seemed to imply Sigmike's proposal was chosen and he is currently developing it.
[i]It most likely would be a mandatory upgrade. We don't have a release schedule yet. Mike has just started to work on the cold minting feature.[/i]
[font=trebuchet ms][size=17pt]2. Community Development:[/size]
[size=14pt]- Peerunity v0.1 Released[/size]
On 6/2/14, v0.1 of the community developed Peerunity client saw release. Updates over the official client include:
New Features:
[ul][li]Peerunity branded UI (new icons and text and content labels)[/li]
[li]"Unlock for Minting Only" menu item[/li]
[li]"Coin Control" functionality[/li]
[li]createmultisig RPC call added[/li]
[li]-walletnotify command added[/li][/ul]
Image of the minting option (found under settings):
Image of coin control feature (enabled under settings -> options -> display):
Protocol Bug Fixes:
[ul][li]New stakes will be displayed after a successful block mint without having to restart the client.[/li]
[li]When a proof-of-stake block was minted, the sum of the resulting balance (block reward + stake) was incorrectly being doubled when displayed through the listaccounts RPC call. This was only a display issue and did not affect the GUI or when getbalance was called.[/li]
[li]In the Options dialog, the mandatory transaction fee description was updated with accurate details about how the Peercoin network fees worked. Previously, the text referred to how the Bitcoin network's fees are processed.[/li]
[li]Updated compilation instructions for building on OS X (with MacPorts or Homebrew, for 10.8.x or 10.9.x)[/li][/ul]
Localization Updates:
[ul][li]French language translation updates[/li]
[li]Norwegian language translation updates[/li]
[li]Chinese (Simplified) language translation updates[/li][/ul]
[size=18pt]- Peerunity v0.2 in Development[/size]
Peerunity v0.2 has been in development for a while as well. Based on community discussion, Jordan Lee has confirmed the following features should be included:
v0.2 Feature List:
[ul][li]The minting tab (pull request #77 from daeMOn)[/li]
[li]A new stylesheet (no pull request yet)[/li]
[li]Raw transactions RPC + batch JSON-RPC (pull request #26 from glv)[/li]
[li]Add address for minted coins in transaction table (pull request #45 from glv)[/li]
[li]Add support for IPv6 node and for Socks v5 proxy (pull request #49 from glv)[/li]
[li]sendmany from all accounts (pull request #74 from sigmike)[/li]
[li]Improve the transaction size (and fee) prediction of coin control (pull request #86 from glv)[/li]
[li]A variety of translation updates and bug fixes. There are a number of these already submitted as pull requests, plus we will accept more until we are code complete.[/li][/ul]
Peercoin member Sentinelrv has been designing the new visual style and Ben is working on implementing it into the client. Here is a concept: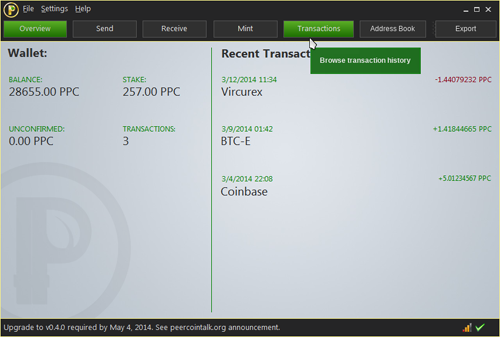 [size=14pt]- New Peercoin Video Released[/size]
The animated Peercoin video project funded by the community has been completed! www.whatispeercoin.com has been setup as an easy to remember shortcut URL for easy linking when sharing the video with others. The regular YouTube address can be found here.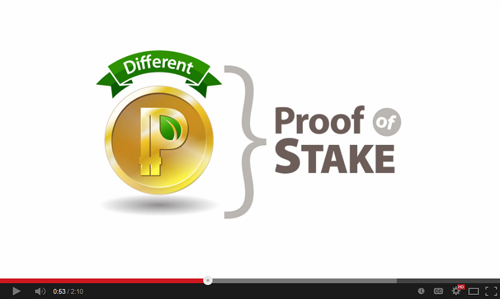 [size=14pt]- Introducing the Peercoin Marketing Fund[/size]
On 6/27/14, the Peercoin Marketing Fund was introduced by Cybnate and River333. This fund will allow anyone to submit a marketing proposal for Peercoin. Each proposal will be voted on by the community. If approved, the proposal will be funded. This fund will make us more agile and faster to respond to opportunities without the need to raise money first. It will also challenge the community to be creative and come up with their own proposals, as they will know the money is available to them as long as they can convince the community to vote for it. Below you'll find a list of important links related to the fund:
Important Fund Links:
[ul][li]Fund Donation Page[/li]
[li]Marketing Fund Charter[/li]
[li]Template for Submissions[/li]
[li]Proposal Submission Board[/li][/ul]
We are proud to announce the launch of the Peercoin Marketing Fund. Instead of having a foundation or a small marketing team working in private, this fund will allow marketing to be done by the community, and for the community. No hidden agendas or ulterior motives. Anyone can submit a proposal and receive funding for their idea, and all proposals will be voted on by the community before receiving funding. The funds will be stored on peer4commit and will use multisig as soon as it is available. Distributing the funds to projects will be done by volunteers who hold the role on a temporary basis, and are voted in by the community. Full details of the structure can be found in the Charter.

The fund has already received extremely generous donations, with 4000 PPC now available to start with. Donations can be sent on peer4commit. Please use the "Donate" button so you can give a return address. If you have an idea for marketing Peercoin, you are now invited to post a proposal. Please see the Template for Submissions for more information. We hope that this fund will help spread awareness and lead to greater adoption of Peercoin.
[size=14pt]- 38 Minute Intro to Peercoin Video & Slide Deck Created[/size]
On 6/30/14, the first proposal, an intro to Peercoin video, was made by community member Chronos. It was soon approved by the community and on 7/13/15, it was successfully completed! The 38 minute video provides an excellent overview of the basics of Peercoin, proof of work vs proof of stake, and where Peercoin is headed long term in contrast to Bitcoin and other proof of work cryptocurrencies. You can watch it right here. You can also download the slide deck here and use it for Peercoin presentations. We've also setup two shortcut domains to the video you can use to spread around, bitcoinVSpeercoin.com and peercoinVSbitcoin.com.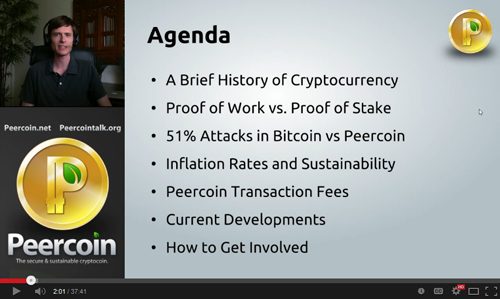 [size=14pt]- Peer4Commit Gets a Facelift & New Features[/size]
On 5/6/14, sigmike proposed a major evolution for Peer4Commit. Only a few weeks later a redesign and several of the features were implemented. Check it out at peer4commit.com!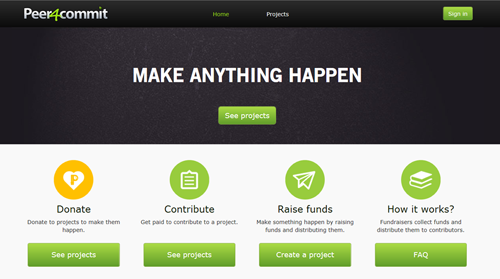 [size=14pt]- Peercoin.net is Being Redesigned[/size]
The community has hired a web developer to redesign Peercoin.net and is in the process of hiring Chronos to take the lead on content creation. Lots of new pages full of content are in the planning stages, including user type pages, explanations and guides. Certain pages will also feature instructional videos. A news blog will be incorporated into the new site as well as a way to sign up for the Peercoin newsletter, so you can receive news updates via email. Follow its progress and give feedback and suggestions in this thread.

[font=trebuchet ms][size=17pt]3. The "Cryptoasset Game Changer" Introducing NuBits:[/size]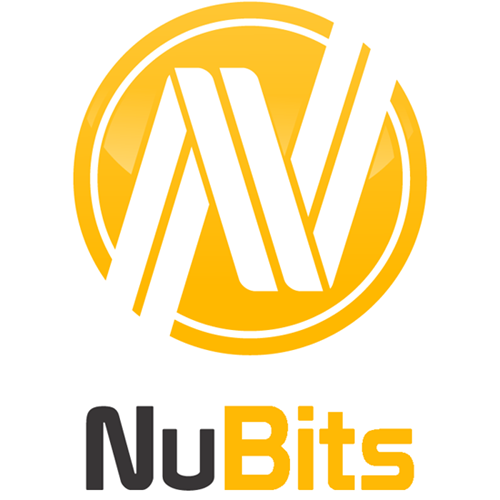 On 6/5/14, Jordan Lee revealed that the project he and his team have been working on will be called NuBits in a very bold announcement. He also confirmed that dividend payments to NuBits shareholders would be paid in Peercoins.
The Peershares implementation and extension my team has been working on will be known as the NuBits project.[b] It provides something which the cryptocommunity has desperately wanted and needed for years.[/b] There are presently no implementations or competitors with a production system up and running to meet the need. It will be a ground breaking release. Some might even call this the most important development in the cryptoasset space since Bitcoin was released. Others will disagree, but there will be a consensus that it is an historic development in decentralized finance.

As many of you know, I have not felt comfortable selling a product that doesn't exist. This will not be an issue preventing investment or broader participation in the NuBits project much longer. Soon we expect to have our production network and client up and running, at which time we will begin to look for investors who would like to purchase our Peershares and participate in the NuBits project. Potential investors will receive extremely detailed information about the NuBits project and a client they can use to connect to the production network. This wave of investors will be people who have demonstrated a capacity to benefit cryptoasset projects such as developers, marketers, testers and active forum participants. People who purchase our Peershares will be business partners, so we want to select them carefully. Later we will sell shares to people who's primary contribution is financial. All proceeds from the sale of our Peershares will be used in the interest of shareholders, particularly for operating and development expenses. We expect the project to be very well funded and experience explosive growth.

Finally, I will confirm that we will be distributing dividends as Peercoins. We expect to need quite a few Peercoins to accomplish this.
On 6/29/14, an update:
All major features for the initial release of the NuBits project are code complete and the protocol has passed the most basic sort of unit tests. We are still adding new code that is of peripheral importance and there is a lot of QA work yet to be done. But the code is surprisingly bug free owing to the fact that sigmike is our primary developer. Our development effort is beginning to shift focus to our second release, as our QA team has the primary responsibility for bringing the first release to completion at this point.

We are wrapping up development as quickly as possible and are excited to share this cryptoasset game changer with the world soon.
Then, hints as to what NuBits could be started appearing on the official Twitter & Facebook pages.
On 7/2/14, Jordan Lee announced the website, www.NuBits.com
While an entire team of IT professionals have been working privately to bring you the NuBits project for 5 months, public NuBits activity is just now slowly but surely ramping up. The seemingly cryptic messages you are reading from the NuBits team hint at a future cryptoeconomy that will look very different from the volatile markets that exist today. Peercoin is poised to play a meaningful role in the innovative solution we are building.

The next step in building awareness is launching a splash page for NuBits at www.NuBits.com, which is available now. Many more details and tools will be released on the NuBits.com website at an appropriate time in the future. Once we have a firm release date, the random hashing values will change to a release countdown.

Something Nu is coming in 2014, and we are eager to share it with the world.
Thecoinfront.com picked up on it and wrote an article you can find here.
Follow NuBits here:
[ul][li]Twitter[/li]
[li]Facebook[/li]
[li]Reddit[/li]
[li]NuBits.com[/li][/ul]
[font=trebuchet ms][size=17pt]4. Conclusion:[/size]
[ul][li]Peercoin will be two years old on August 19th, 2014![/li]
[li]Peercoin's PoW difficulty is now at 181 million, almost triple it's January difficulty of 64 million.[/li]
[li]Peercoin's PoS difficulty is hovering around 12.1, over triple what it was a year ago.[/li]
[li]At the time of this writing, the Peercoin blockchain is still less than 300mb due to design![/li]
[li]Community member JetJet13 has created Peerchain.co; a Peercoin block explorer with lots of great info. The official thread for it can be found here[/li][/ul]
[font=trebuchet ms][size=17pt]5. See You Next Time:[/size]
Thanks for reading. Don't be shy now. Join us at peercointalk.org! This has been Young Master Yurizhai, PEACE OUT!