I'm not going to say who, or when, but it doesn't change the story, and the story is what is important.
Some time ago, I was at a Bitcoin ATM, Robocoin to be specific.
There was a line up for the Robocoin ATM machine of people wanting to buy/sell Bitcoin. A lot of these people just wanted to turn fiat into cryptocurrency. Normally this location only needs 1 Bitcoin block confirm to verify the transaction and then the Bitcoin ATM will transfer you BTC, or issue fiat money.
There was a period where there was a market panic due to price fluctuations, and for 2 solid hours, there was no block confirm for most of the people waiting for one. All the 10 minute blocks were full by other transactions, or were spaced apart due to high PoW difficulty. So these ATM customers had to wait for their transaction to appear in an available Bitcoin block.
People had to keep re-feeding their parking meters while they waited by the Bitcoin ATM for that single block confirm to carry their transaction before they could leave the place. People were visibly upset after about 45 minutes to an hour.
One of the owners of the Bitcoin ATM was there and went outside for a smoke. I went to talk to that person.
This person sheepishly smiled and said "people don't get it yet". Bitcoin with the hard difficulty, and the numerous transactions including dust, and the low transaction fee. It's a matter of time before they consider something like Peercoin as the cryptocurrency of choice for ATM transfers. There is too many transactions, too much "dust", too many exchange-to-wallet transfers going on, that it's filling up Bitcoin's blocks every now and then and it's a real problem.
(By the way don't forget about that large Bitcoin mining fire that happened)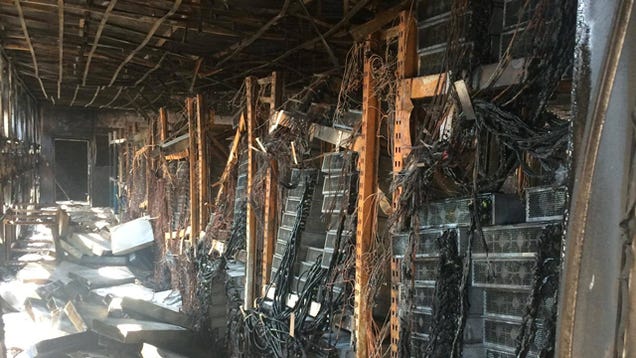 So while Peercoin (today) is around the 75 cent mark, and Bitcoin is at around $375, there is a situation that has been brewing for quite some time that hasn't become widely known yet.
No one wants to wait for 2 hours for a single block confirm, but it HAS happened, and will happen again, and again, and more frequently.
This brings me to an idea that I have:
You know the www.usdebtclock.org site? We need something like that that compares Bitcoin and Peercoin's block chain stats every 10 minutes and updates it.
Something that shows:
Bitcoin Blockchain Size: XXYZ Gigs
Peercoin Blockchain Size: XXYZ Megs (72% smaller)
Bitcoin 5 last blocks over 10 minutes: Block# 23432 (Nov 27/14 09:29 GMT) (etc, etc,etc,etc)
Peercoin 5 last blocks over 10 minutes: NONE
Bitcoin: Last 24 hours, number of transactions less than 0.05 BTC: 4,332
Peercoin: Last 24 hours, number of transactions less than 0.05 PPC: 12
This type of ongoing statistical record keeping and presentation will inevitably show the real reason why Peercoin needs to be a contender for "large volume" transactions and start trading on Peercoin ATM's.
Couple this with the low volatility of Nubits, and you have a winning combination.
The problem? We're not promoting it, talking about it, educating people about it, and it's not self evident yet.
Once this happens, expect Peercoin and Nushares to sky rocket in value.
I have plenty of ideas like this (no shortage of them).
If you don't have a good position in Peercoin ($500 or greater), this might be a good idea to buy a few more. As per market regulations, don't take any thing I've posted here as financial advice. But if you see the same thing I do, this is a really great time to "get in" and wait.